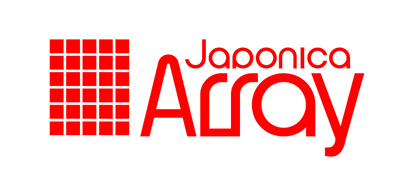 The Japonica array "ジャポニカアレイ®" is the first ever SNP array optimized for Japanese population. The aim of development of Japonica array is not only to facilitate the prospective genomic cohort study conducted by Tohoku Medical Megabank Organization (ToMMo) but also to make a contribution to the genomic medicine studies in Japan.
The array contains 638,269 tag SNPs as well as other useful genetic markers in total 659,253 SNPs. The tag SNPs of the Japonica array were selected from whole-genome reference panel of 1,070 Japanese individuals (1KJPN panel) by the tag SNP selection algorithm developed by the group of in silico analysis. These tag SNPs enable us highly precise whole-genome genotype imputation of individuals from Japanese population. In this study, we confirmed more than 8 million genotypes of autosomal SNPs could be imputed with high precision (r-square>0.8) from 131 samples genotyped with the Japonica array. The detailed contents, the array design method and philosophy, and the imputation accuracy are described in our paper published in Journal of Human Genetics. The genotyping service of the Japonica array is now provided by Toshiba Healthcare Company under the license from Tohoku University.
The positions of probes on Japonica array can be seen at iJGVD.
You can download the SNP list designed on Japonica array from this website.
We conducted the genotype imputation of the Japonica array and the 1KJPN panel using ToMMo supercomputer through the cooperative study with ToMMo.
If you want to know whether SNPs of your interest (up to 200 snps) can be imputed with the Japonica array and the 1KJPN panel, please email us.
Copyright (C) 2015 Tohoku University. All Rights Reserved.
Citation
Please cite the following manuscript related to this software:
---
Yosuke Kawai, Takahiro Mimori, Kaname Kojima, Naoki Nariai, Inaho Danjoh, Rumiko Saito, Jun Yasuda, Masayuki Yamamoto and Masao Nagasaki,
Japonica array: improved genotype imputation by designing a population-specific SNP array with 1070 Japanese individuals
Journal of Human Genetics 60:581-587 10.1038/jhg.2015.68.(25/Jun/2015)